Tire, August, 2009
Here are photos from an excursion to Tire on Thursday, August 13, 2009, during our day off from teaching in Şirince. We took about 120 photos that day; but I did make the selection here until six years later. Writing captions for the photos is a curious test of memory.
We went to Tire because of some sites mentioned in a book called Early Ottoman Art: The Legacy of the Emirates, dated 2002. It is a sturdy book, with pages of glossy paper sewn in signatures, and it is a sort of catalog of an exhibit at the Museum With No Frontiers on the theme of "Islamic Art in the Mediterranean."
The book has eight "Itineraries." The second itinerary—credited to Lale Bulut, Ertan Daş, Aydoğan Demir, and İnci Kuyulu—is called "Protectors of the Arts and Artists." It visits the following sites:
Selçuk

Saadet Hatun Hammam
İsa Bey Hammam
İsa Bey Mosque
Citadel

Tire

Kutu Han
Yahşi Bey (Yeşil İmaret) Mosque
Yavukluoğlu (Yoğurtluoğlu) Complex

Birgi

Great Mosque (Ulu Cami)
Türbe of Aydınoğlu Mehmed Bey
Türbe of Şah Sultan (option)
There was a dolmuş to Tire, but I seem to recall that it took us to an otogar outside of town. For the return to Selçuk, we managed to pick up the dolmuş somewhere in town. According to the book, and perhaps also to what we learned locally, a trip to Birgi (Πυργίον) would have been made with two more dolmuş, via Ödemiş.
I obtained the following map from OpenStreetMap. With more study and work, I might be able to obtain a map more useful for present purposes. As it is, I can only note that Birgi is within the area of the map, northeast of Ödemiş.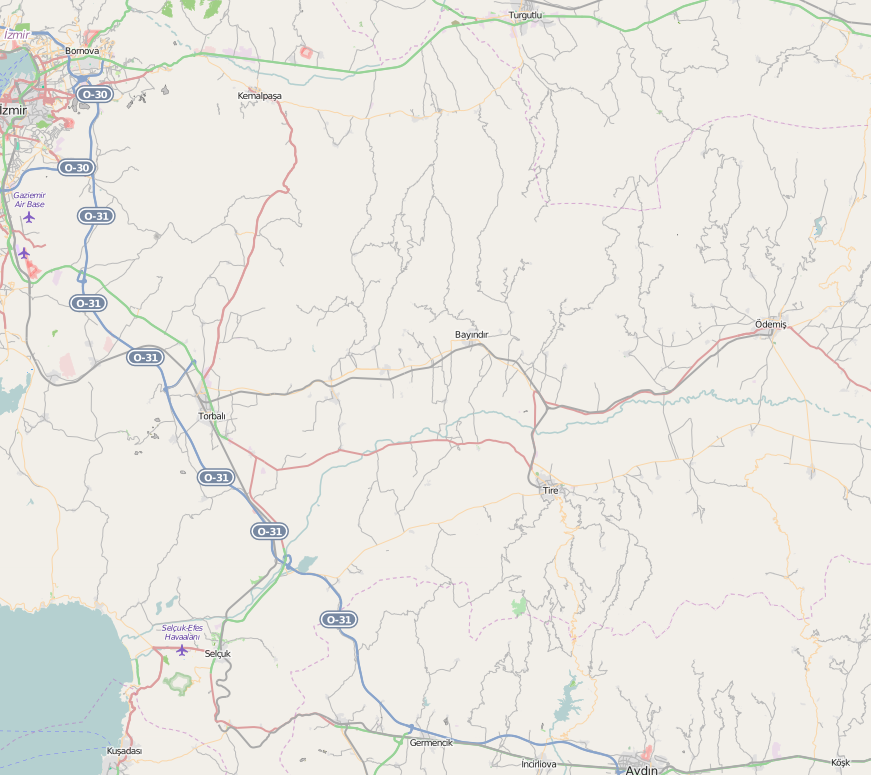 Meanwhile, in Tire, we did ultimately see the Kutu Han and the Yahşi Bey Mosque; but the Yavukluoğlu Complex seemed to be too far out of town. We saw a number of other sites, as shown in the photographs. Perhaps we had learned about them from the tourism information office. I cannot name the fountain in the first photograph above. The next two photographs were from a hamam undergoing restoration.
For many of the remaining photos, a photograph of a sign, as here, will have to serve as the only identification.
I was developing a blister, but I had come prepared. Having always had trouble finding shoes that fit me properly, in Ankara I was having shoes made expressly for me. But the cobbler was used to making dress shoes, and he didn't make new lasts for my feet; he just took the biggest lasts he had and enlarged them with tape. My toes could still be cramped in the shoes. Wearing sandals in Şirince allowed the skin of my toes to dry out. Finally stuck in shoes, they could not slide the little bit necessary against each other. But I was prepared: I had some ointment, Arko "Miracle Cream" (mucize kremi). A mosque provided me a place to wash my feet before applying the ointment—and it provided Ayşe with a way to depict me as if I were doing ablutions for prayer.
Here was the Kutu Han, where, as the guidebook said, rope was still being made the old-fashioned way, as the caretaker explained.
We found our way to a flowing stream.
The water turned out to be recirculating with the help of a pump. Above a certain point, the stream was dry.
The museum had a wonderful assortment of carved stones.
One of the stones ended up in an article, Infinity symbol II, in the blog, A Dialogue on Infinity.
I think the next (and last) photograph is from around the supposed house of Lamartine. See my old email.