Istanbul, January 19, 2008
Hrant Dink was assassinated at three in the afternoon on Friday, January 19, 2007, outside the offices of Agos (ԱԿօս) newspaper in Istanbul. For the first anniversary of this event, there was a call to gather at the same spot. A number of stories around this gathering are available in English on Bianet.
A group of almost twenty people from METU, both faculty and students, took the 22.00 train from Ankara on Friday, January 18, 2008. We met up in the dining car. Somebody (probably also a METU student) visited our tables, offering cards with slogans; I selected the one that read
Faşizme inat, kardeşimsin Hrant! (In spite of fascism, you are my brother, Hrant)
I discussed the exact translation with our tablemates and soon-to-be roommates, Üstün and Jean. (Üstün had been a high-school classmate of Ayşe's mother in Ankara before spending 27 years in Winnipeg; Jean was her Quebecois husband, who had recently taken Turkish citizenship.) Üstün suggested translating the opening phrase on my card as "To spite fascism" or "In spite of fascism"; but these had different connotations. From Jean came the suggestion "Fuck fascism."
We arrived at Haydarpaşa Terminal on the shores of the Bosphorus a little past seven. Some of us had tea by the water while waiting for the ferry to take us to Karaköy on the European side.
In Karaköy our group had breakfast at a börekçi before going our separate ways till the afternoon. Ayşe and I would slowly make our way to Homer Kitabevi in Galatasaray, then to Zencefil near Taksim Square for lunch. First we climbed the hill towards Tünel, pausing near the Galata Tower for an orange juice and a pomegranate juice.
Somewhere around the top of the hill, we happened upon a spray-painted stencilled grafitto memorializing Festus Okey, a migrant from Nigeria, who had been killed the previous August while in police custody in Beyoğlu.
The Galata Mevlevihane (Dervish lodge) can be a peaceful place to relax and get away from the crowds on İstiklâl Caddesi; but this time it was closed for renovation.
Standing wide open was the Santa Maria Draperis Latin Church. Near the door, a web address, www.fransisken.com, was posted; this leads to a site, in Turkish and English, about St Francis of Assisi, but not about a particular church. (At the Time Out Istanbul site, the church on İstiklâl Caddesi is listed as one of 20 places in Istanbul to "be the Tao" by writer who claims that the word tao itself is related to the Turkish doğru "right", doğa "nature", and doğuş "birth". Three Turkish etymological dictionaries at home do not confirm this. Another reference at home, the eight-volume Dünden Bugüne Ýstanbul Ansiklopedisi [Encyclopedia of Istanbul from Yesterday to Today, a joint publication of the Turkish Ministry of Culture and the History Foundation, 1994], in an article by Yıldız Salman, says Madam Clara Bratola Draperis donated land for the church after its building on Mumhane Caddesi burned in 1584; but the church has burned and been rebuilt several times since then, most recently in the great Beyoğlu fire of 1870, when the church was rebuilt by Guglielmo Semprini.)
We visited Robinson Crusoe and then Homer Kitabevi, both excellent sources for books in English. Then we made our way along the back streets of Beyoğlu to Zencefil.
We reached the Agos offices before two. If there had been nothing else to do, we could have just explored the neighborhood, perhaps visiting the Armenian cemetery that the map said was nearby. As it was, a crowd of demonstrators had already formed. Anatolian music was playing over the loudspeakers atop a bus. A year before, police had searched everybody entering the the area. This year, there were no searches, but the police had lined the median of Halaskargazi Caddesi with barricades. Perhaps they intended to close only one side to cars.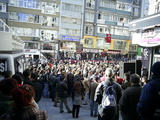 There had been a plan for the METU contingent to meet at a nearby Starbucks. We happened to find a Starbucks around the block from Agos, but none of our comrades were there. We learned later we were at the wrong one. Meanwhile, a group of chanting demonstrators passed by, and then Jean and Üstün and her sister came along. We all went to join the crowds, but got separated. We happened upon our Istanbul friend Özlem and a friend of hers, but got separated from them too in the crush of people.
We all started to fill up the northbound lanes of Halaskargazi Caddesi. Then the word came that we should make way for a few more cars and busses before the police closed off the road. So we allowed the vehicles to squeeze past us.
On the bus with the loudspeakers, a man played sombre music on a duduk, by way of keeping the crowds from shouting slogans. As had happened the year before, some people were too far away to hear the loudspeakers, and they did begin chants that would spread throughout the crowd:
Faşizme karşı omuz omuza! (Shoulder to shoulder against fascism)

Katil devlet hesap verecek! (The murderer state will pay the price)
From the Agos windows, above a large photograph of her late husband, Rakel Dink spoke. Appearing next to Rakel hanım for a while, though not speaking, was Arundhati Roy, who had apparently delivered the first Hrant Dink Memorial Lecture at Bosphorus University the previous day.
As the previous year, round black signs with white lettering were distributed to the crowd. In Turkish, Armenian, Kurdish, and English, the message was simply, For Hrant, For Justice.
Ayşe and I were close to the barricade on the median of the road. Along the opposite sidewalk was a platform for the news media. Between us and them, we saw police start to move quickly down the road, some with helmets, some with gas masks. I think some demonstrators had moved the barricades against police orders. Soon some non-uniformed men came and removed the barricades that had been holding us in. So we spread out across both carriageways.
There was one handmade sign that I saw, reading:
"Kandan bayrak" yapan çocuklara değil, dökülen kanı sorgulayan çocuklara ihtiyacımız var! (What we need is not children making "a flag from blood" but children who question the spilling of blood)
Apparently twenty high-school students—ten boys, ten girls—had recently used their own blood to color a Turkish flag, which they had sent to the chief of staff of the Turkish armed forces.
A minute of silence was observed for Hrant at three. Perhaps fifteen minutes later, we were invited to disperse. Ayşe and I headed back south towards Taksim. Near a hotel, there was a large formation of police in the middle of the road. It was not clear why they were there, although some demonstrators seemed to be shouting up at the hotel.
We met a former METU student along the way, and then our comrade Feza. We might have found more of our comrades in the crowd; but before reaching Taksim, we decided just to head east towards Mustafa and Melda's apartment in Beyoğlu, where we would spend the evening. Along the way, we passed a small park ringed with busts of Turkish leaders—such as Atilla the Hun and Tamerlane—of the last two thousand years. The final figure in this pantheon was Atatürk.
At the bottom of the hill, we passed Ihlamur Kasrı, Linden Pavilion, which had been the Sultan's hunting lodge when the surroundings were just forest.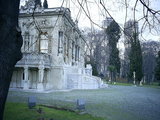 We found Mustafa and Melda and baby Turgay. The following afternoon, we caught a bus back to Ankara.